With the hair transplantation, you can regain the hair you lose and achieve a strong image.
There can be many reasons for hair loss; Shedding of hair may start at the age of 20 and up to the age of 45 due to genetic factors, illness, stress and life-related reasons.
Intense hair loss and baldness can cause loss of self-confidence and unhappiness in people. But baldness is no longer a problem. By having a hair transplant, you can obtain new and strong hair and strengthen your image and self-confidence.
Hair transplantation, which started in the 1990s, gives very successful results thanks to developing medical technologies, hair transplantation techniques and successful applications of experienced specialists.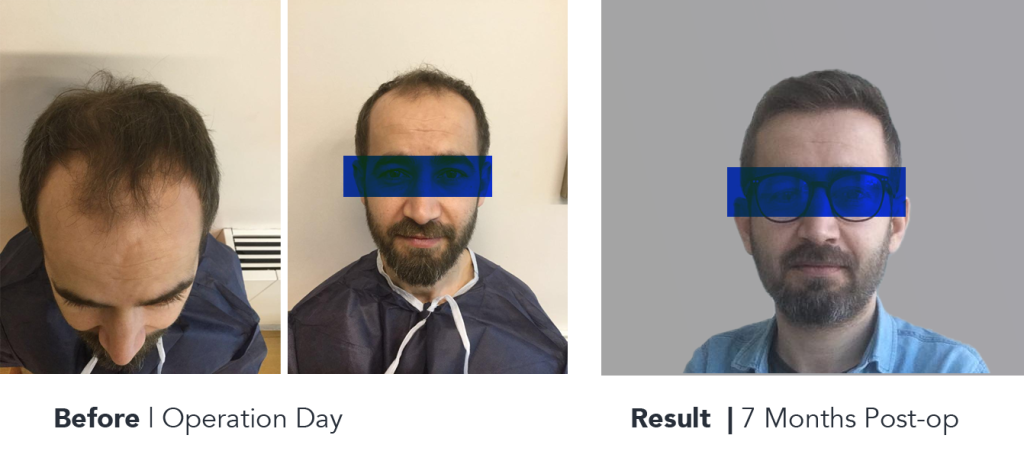 Hair transplantation is a completely natural operation and the transplanted hair is provided from your own hair. The hair to be transplanted is extracted -from the back of head or above-ear area and transferred to the bald areas. The hair on the back of head and the hair above the ears have a tendency not to shed thanks to their genetic characteristics.
Transplantation operation varies according to the number of grafts to be transplanted and it takes 6-8 hours. Please click for details about the process.
Hair transplantation is a clinical procedure, and it must be done by experts in a clinical environment that meets legal standards.
With today's technologies, there are 3 hair transplantation methods that give successful results.
All of those techniques can give successful results. We should especially mention that the most important factor is the experience of the operation team and the success of the operation.
FUE Hair Transplant
It is the most common hair technique and it gives very successful results with an experienced team.
The most important advantage of the FUE method is that the maximum number of hair grafts can be performed for the transplant. Hair follicles extracted from the donor area are placed into micro-channels opened in the recepient transplant area. Please see details…
DHI Hair Transplant Without Shaving
The biggest advantage of DHI Hair Transplantation Method is that it allows hair transplantation without shaving completely. In this method, called DHI (Direct Hair Implant), graft extraction is the same as FUE, but the placement stage of the grafts is different. The grafts extracted are placed in CHOI pens specially developed for hair transplantation and inserted into the bald areas.Please see details…
Sapphire FUE Hair Transplant
The only difference from the standard FUE method is that the micro-channels are opened with a sapphire medical tool. This difference provides significant advantages. Thanks to the sapphire material, denser transplanting can be done and the healing time of the micro-channels opened with the sapphire blade is faster comparing to the standard FUE technique. Please see details…
Let's also give information about anesthesia in hair transplantation.
One of the most challenging processes in hair transplantation cases is the anesthesia process. However, with the developing medical techniques, this process has become completely painless and extremely comfortable. Local anesthesia, which was applied with only needles until 2018, became less painless with the help of pressure injections in 2019. At the end of 2019, completely painless anesthesia started to be applied; which is called Sedated Soft Anesthesia. You can have a completely painless hair transplant with this technique, which is performed specifically based on the patient's physical conditions. See for details